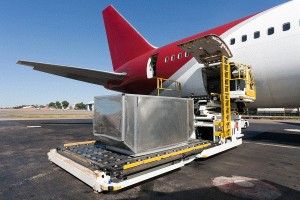 DOMESTIC AIR FREIGHT
MELBOURNE
"When you need to get it there fast"
"RENOWNED AUSTRALIAN DOMESTIC AIR FREIGHT COMPANY"
CargoMaster KNOW HOW , to get your domestic air freight delivered quickly and cost effectively. Australian domestic air freight specialists with over 30 years experience organizing the URGENT uplift of domestic air freight to all corners of Australia, overnight air cargo and same day air cargo services available to and from Melbourne and Victoria.
CargoMaster moves all types of air freight to and from Melbourne Domestic Airport, including (but not limited to) heavy machinery, ships spares, shop fittings, mining machinery, industrial equipment, floor-coverings, perishables, staging equipment, exhibition material, emergency recovery equipment, the list is endless!. CargoMaster services include chiller facilities for temperature controlled air freight, located on-site at the Melbourne domestic terminal. CargoMaster domestic air freight services extend to assistance with DG cargo documentation and the packaging, blocking and bracing of heavy domestic air cargo. Call CargoMaster for heavy-Lift and shift domestic air freight services from Melbourne to almost anywhere in Australia.
DOMESTIC AIR CARGO AUSTRALIA-WIDE
CargoMaster works with a broad range of clients including, private individuals, Australian Government Departments and some of Australia's largest publicly listed companies. If you need to move domestic air cargo to or from Melbourne FAST then you need CargoMaster!
"SAVE MORE, SAVE TIME" with CargoMasters' air cargo consolidation services to and from Melbourne!
DOMESTIC AIR FREIGHT CHARTER
DOMESTIC AIR FREIGHT
CALL NOW 1300 767 136 NATIONWIDE
DOMESTIC AIR FREIGHT MELBOURNE TO SYDNEY
DOMESTIC AIR FREIGHT MELBOURNE TO BRISBANE
DOMESTIC AIR FREIGHT MELBOURNE TO ADELAIDE
DOMESTIC AIR FREIGHT MELBOURNE TO PERTH
DOMESTIC AIR FREIGHT MELBOURNE TO HOBART
DOMESTIC AIR FREIGHT MELBOURNE TO LAUNCESTON
DOMESTIC AIR FREIGHT MELBOURNE TO CANBERRA
DOMESTIC AIR FREIGHT FREIGHT MELBOURNE TO THE GOLD COAST
DOMESTIC AIR FREIGHT MELBOURNE TO THE SUNSHINE COAST
DOMESTIC AIR FREIGHT MELBOURNE TO DARWIN (TOP END)
DOMESTIC AIR FREIGHT MELBOURNE TO KATHERINE (TOP END)
DOMESTIC AIR FREIGHT MELBOURNE TO ALICE SPRINGS
DOMESTIC AIR FREIGHT MELBOURNE TO CAIRNS
DOMESTIC AIR FREIGHT MELBOURNE TO PORT DOUGLAS
DOMESTIC AIR FREIGHT MELBOURNE TO WEIPA
DOMESTIC AIR FREIGHT MELBOURNE TO TOWNSVILLE
DOMESTIC AIR FREIGHT MELBOURNE TO MT ISA
DOMESTIC AIR FREIGHT MELBOURNE TO MACKAY
DOMESTIC AIR FREIGHT MELBOURNE TO MORANBAH
DOMESTIC AIR FREIGHT MELBOURNE TO KARRATHA
DOMESTIC AIR FREIGHT MELBOURNE TO BROOME
DOMESTIC AIR FREIGHT MELBOURNE TO PORT HEDLAND
DOMESTIC AIR FREIGHT MELBOURNE TO NEWMAN
DOMESTIC AIR FREIGHTT MELBOURNE TO MT MAGNET
DOMESTIC AIR FREIGHT  MELBOURNE TO EXMOUTH
DOMESTIC AIR FREIGHT TO ONSLOW
DOMESTIC AIR FREIGHT TO PARABURDOO
DOMESTIC AIR FREIGHT MELBOURNE TO  TOM PRICE
DOMESTIC AIR FREIGHT TO MEEKATHARRA
DOMESTIC AIR FREIGHT MELBOURNE TO PARDOO
DOMESTIC AIR FREIGHT MELBOURNE TO MARBLE BAR
DOMESTIC AIR FREIGHT MELBOURNE TO CUE
DOMESTIC AIR FREIGHT MELBOURNE TO PANNAWONICA
DOMESTIC AIR FREIGHT MELBOURNE TO CARNARVON
DOMESTIC AIR FREIGHT MELBOURNE TO KALGOORLIE
DOMESTIC AIR FREIGHT MELBOURNE TO COOLGARDIE
DOMESTIC AIR FREIGHT TO ORA BANDA
DOMESTIC AIR FREIGHT MELBOURNE TO LEONORA
DOMESTIC AIR FREIGHT  TO LAVERTON
DOMESTIC AIR FREIGHT TO SOUTHERN CROSS
DOMESTIC AIR FREIGHT  TO MARVEL LOCH
DOMESTIC AIR FREIGHT  TO ENEABBA
DOMESTIC AIR FREIGHT  TO ESPERANCE
DOMESTIC AIR FREIGHT  TO ALICE SPRINGS
DOMESTIC AIR FREIGHT  TO NORSEMAN
DOMESTIC AIR FREIGHT  TO MERREDIN
DOMESTIC AIR FREIGHT  TO BUNBURY
DOMESTIC AIR FREIGHT TO GERALDTON